Overview
Partners generate, nurture, and qualify leads through a host of marketing and sales tactics. The objective of Zift Solutions Lead Auto-Registration Rules Management is to automate the process of registering leads to partner organizations quickly based on compliant rule sets. When lead auto-registration rules are enabled, new lead registrations are processed when new leads are created or existing leads are updated using supplier managed auto-registration rules or partner defined rules. Using supplier generated rules may lead to increased adoption, consistent partner set-up and less configuration effort by partners.
Learn more about managing rules or contact your Zift representative to take advantage of this feature.
Here is how supplier managed lead auto-registration rules work.
Suppliers create lead auto-registration rules that can be deployed to all partners at once or to individual partners or partner groups.

More than one set of lead auto-registration rules can be defined for partners.
Partner leads will automatically be registered when they meet the criteria defined in the rules.
Leads associated with ignored companies will not be auto-registered.
Suppliers can monitor the rule set used by partners.

Supplier generated rules will appear in Zift123 Lead Management Settings for partner administrator access.
Partner administrators will determine which rule sets to take advantage of.

Can choose to create their own rules, accept supplier rules, or use no rules.
Are not allowed to edit supplier rules.
Note: Zift recommends that suppliers notify partners when changes are made to the rules using To Partner Communications when rules change.
Location
Leads > Lead Registration Rules
Content
Supplier View of Lead Auto-Registration Rules
In this view you can complete the following tasks:
Search: Search for rules that have been created
Filter: Filters by status to narrow the focus and limit data displayed. Options for filtering include these statuses: published, not published, and archived.
Sort the columns of data.
Select an individual rule to manage.
Partner View of Lead Auto-Registration Rules
Partners will see both partner and supplier generated leads in Lead Management Settings. They will need to select the lead rules that meet their needs.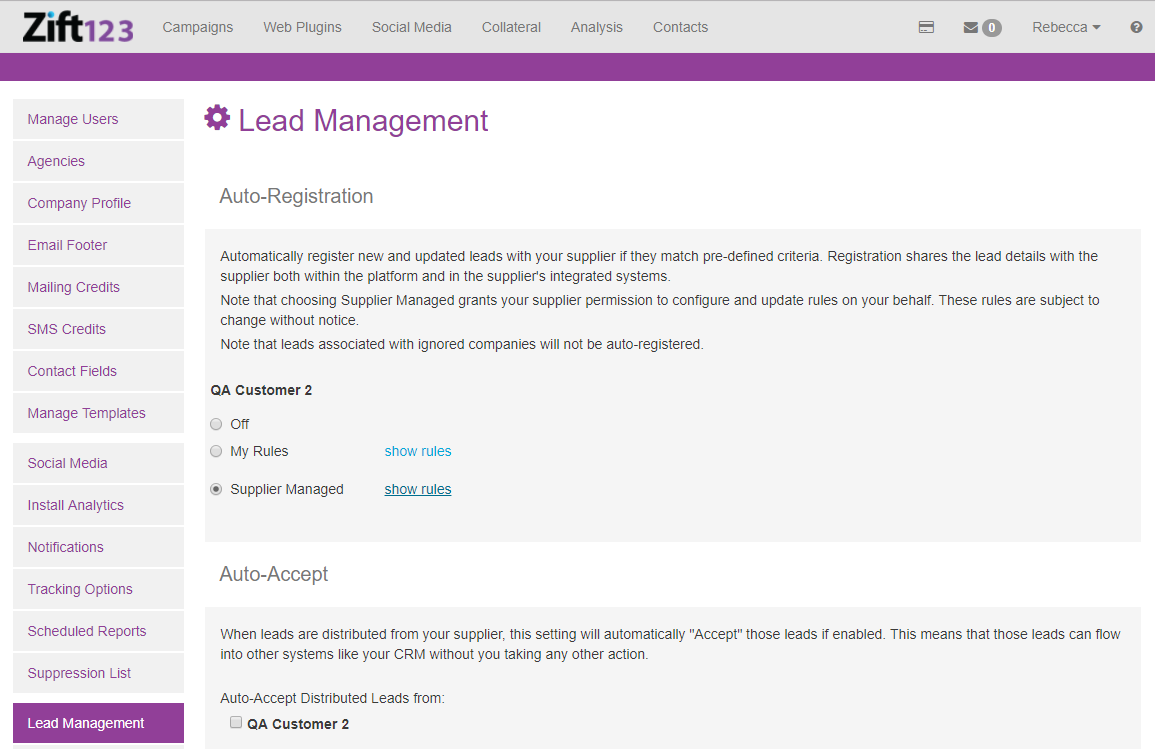 Reporting
Suppliers can see which rule set partners have turned on from Partners > Export > Auto-Registration Rules.

When rules are turned off the column will be blank.
When the partner rules option is selected, the column will read partner.
When supplier rules option is selected, the column will have a comma separated list of the rule sets.
When supplier rules option is selected but no rules are defined, the column will read none.
Rules can be managed from the Lead Registration Rules > specific rule.
Where to see Registered Leads
Partners can see registered leads from Contacts > Registered Leads.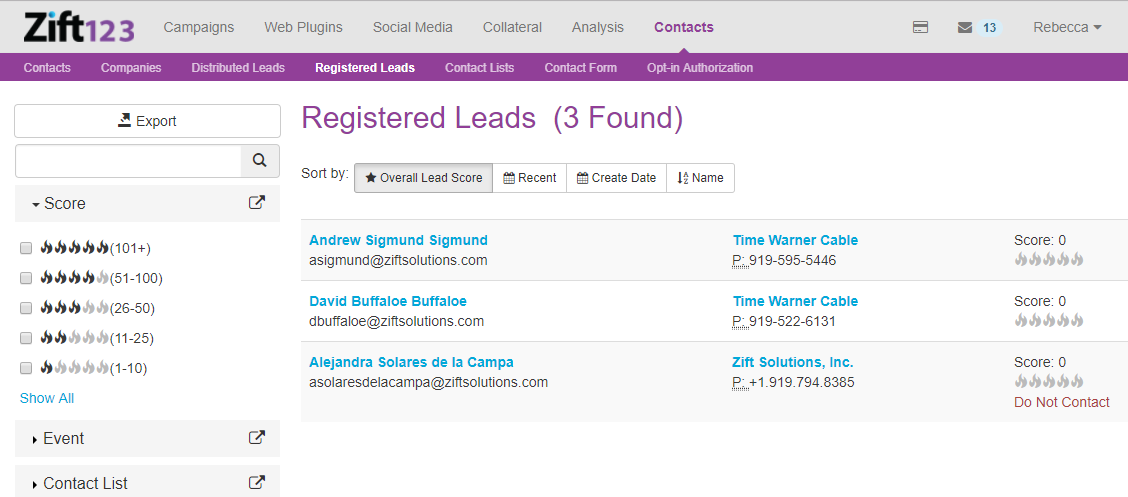 Suppliers can see registered leads from Leads > All Leads.