Overview
Suppliers generate, nurture, and qualify leads through a host of marketing and sales tactics. These leads are often generated through Partner Relationship Management (PRM) systems such as Eloqua and Marketo or through tradeshows and inbound requests. If you are not using another system or integrating with Zift, you can use a CSV file of leads to upload into ZiftMarcom so that you can manage the leads or send emails. It's an easy way to get many leads into the system quickly.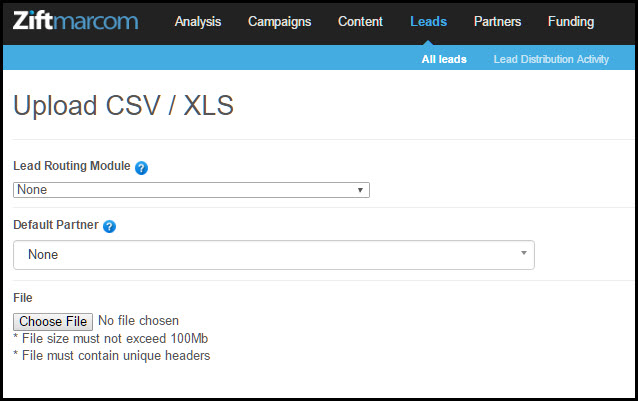 How to Upload CSV/XLS Files with Lead Data
From Leads, select All Leads.
Select a partner from the Lead Routing Module drop-down menu.
Select a Default Partner to assign to leads if the partner name is not in the file that is being uploaded.
Browse for the file to upload. We recommend these header rows: email, first name, last name, partner, distribution status, rejection information, mobile phone, work phone, sales stage, title, company, SICCode, industry, website, annual revenue, number of employees, Address1, Address2, City, State, PostalCode, Country, Notes, Opt-In Authorization, Lead Score, Sales Rep. First Name, Sales Rep. Last Name, Sales Rep. Email, Source, Last Event Date, Events, Lead ID. A template is attached to this article.
Select Import

.

Map the file header rows to the fields.
Select Import. You will get a display of what imported and of the errors.