The Purpose of This Report
This report generates a list of opportunities. The list provides details of what your opportunity pipeline looks like at this moment in time.
Location
Analysis > Leads and Pipeline > Opportunity Details
What Data is Being Reported
This report pulls information from partner entered information in the partner dashboard/Zift123, or via a partner CRM integration. (i.e. when a partner creates an opportunity for a contact or lead activity)
Initial Report View and Editing Suggestions
The following screenshot is an example of an Opportunity Details list having all filters at default settings:
Activities and results during past year/12 months
Any/All Campaigns
Any/All Partners
No Groupings
Distributors - None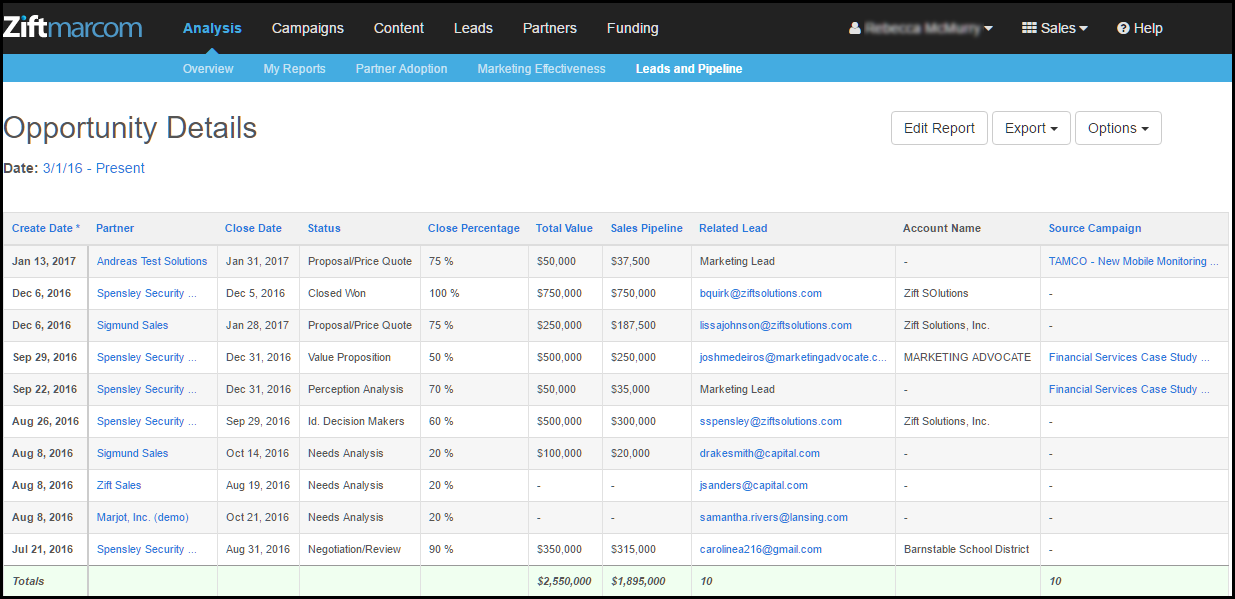 Create Date: The date the opportunity was created.
Partner: The top
Close Date: The estimated opportunity close date. When you identify an opportunity, you can estimate when you will close it so that the pipeline is more defined.
Status: Status or stage of the location of the opportunity in the sales pipeline based on Close Percentage. This might be Open, Closed Won, Closed Lost, etc. It is based on the % that is entered.
Close Percentage: The probability that this opportunity will be won. The percentage of opportunities will be 0 if lost and 100 if won.
Total Value: The dollar value of the opportunity.
Sales Pipeline: This column records the opportunity owner's estimate of the opportunity's dollar value - usually Close Percentage x Total Value.
Related Lead: This column names the lead associated with the creation of this opportunity. A hyperlink to the details of the lead indicates it is a distributed lead. Marketing leads are generated by the partner through marketing activities or other means.
Total: This column shows the total dollar value of opportunities that are open, won, or lost.
Account Name: The account name associated with the lead.
Source Campaign: The campaign name associated with the distributed lead.
Edit Report: See How to Edit ZiftMarcom Reports.
Export: See How to Use Report Options.
Options: See How to Export Reports.