Important: Administrative permission is required to access the Zift123 Settings. For more information, contact your supplier point of contact.
Overview
Zift123 administrators can manage Mailing Credits in the Zift123 platform under Settings. A mailing credit is similar to a postage stamp required for an email to be sent to a single recipient. Partners can see how many Mailing Credits they have, as well as what their Per Mailing Limit is under Settings > Mailing Credits in Zift123.
Contents
The following topics are explained in this article:
Navigate to Settings > Mailing Credits
How Zift Counts Emails
Partners receive email credits at the beginning of every month.
The base credit capacity will replenish at the beginning of each month and credits will not accumulate month over month. One email credit equals one email sent.
An email TEST does not count against your partner credits.
Opt-in Authorization emails do count against your partner credits. Consider requesting more email credits to meet your needs if you send Opt-in Authorization emails.
Current Mailing Limits Explained
This section shows the Zift123 user's system generated email credits allotted per month.
Monthly Limit: The number of email credits allotted per month.
Sent: The number of individual emails that have been sent out month-to-date. Opt-in Authorization emails are considered as part of Sent email count.
Remaining: The number of emails available to send out month-to-date.
Per Mailing Limit: The number of emails the partner is allowed to send out in one mailing.
Request Limit Increase
Zift provides up to two methods for requesting additional mailing credits. Both the Request Limit Increase and Request Additional Credits buttons will send a request to increase the monthly number of credits directly to our support team. You will see a confirmation that the email was sent on the Mailing Credits Setting screen.
The support team will then review your recent mailing history and determine if you are eligible for a mailing credit increase. You will find guidelines provided on the Mailing Credits Settings page defining how we are valuing your sender reputation and what you can do to improve your sender reputation if your recent spending history is outside of our thresholds.
Important: Agencies and vendor employees can make the request directly to support@ziftsolutions.com When contacting Support, provide the user email and company name with the request.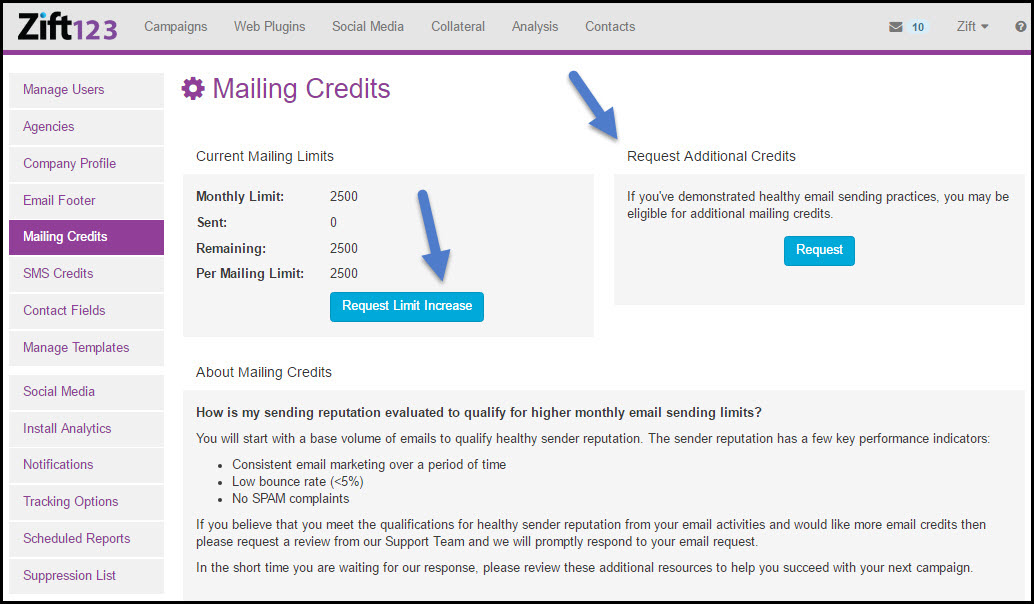 Purchase More Credits
Some suppliers allow you to purchase more credits. If your supplier has provided this option to you, you can select a quantity from the drop-down menu and follow the checkout process. Receipts will be emailed to the logged-in user after purchase. Please contact support@ziftsolutions.com if you do not receive this email within two business days. Purchased mailing credits do not expire.